If you want your own customized item you do this…
Go to CONTACT and send me a email with the following information:
– Your size, for example medium Men or medium Woman
– Choose a design you like, for example a CUBE sweater
– Then choose your own colors from the Color table
Choose as many colors as you like
If you have some special features, just let me know!
Don't hesitate to ask!!!!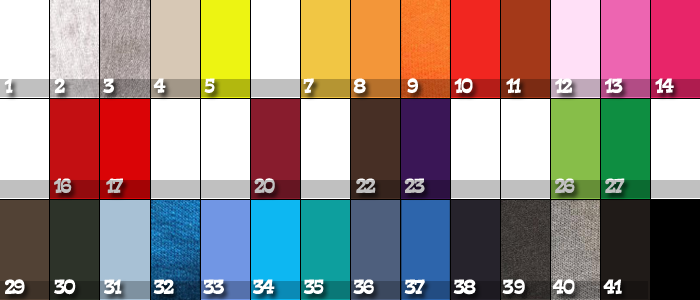 Colors
1 – White
2 – Ash grey
3 – Sport grey
4 – Sand
5 – Fluo yellow
6
7 – Daisy yellow
8 – Gold
9 – Fluo orange
10- Orange
11 – Texas orange
12 – Light pink
13 – Azalea pink
14 – Heliconia
15
16 – Garnet
17 – Cherry red
18
19
20 – Maroon

21
22 – Dark chocolate
23 – Purpel
24
25
26 – Lemon green
27 – Irish green
28
29 – Militair green
30 – Forrest green
31 – Light blue
32 – Sapphire
33 – Carolina blue
34 – Turqouise
35 – Jade
36 – Indigo
37 – Royal blue
38 – Navy
39 – Dark Heather
40 – Charcoal
41 – Black